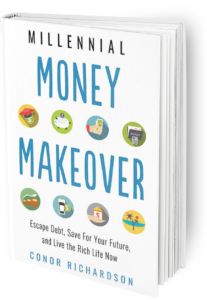 Millennial Money Makeover
by Conor Richardson
Escape Debt, Save For Your Future, and Live the Rich Life Now
---
Description
What are you waiting for? Begin your money makeover today!
Over half of Millennials are freaked out by their finances. Luckily, with Millennial Money Makeover readers now have a guide to help them navigate the financial issues of their time. Certified Public Accountant Conor Richardson offers a hilariously helpful and elegantly designed program to tackle essential money matters.
Millennial Money Makeover takes readers on a 6-step journey to transform their financial life and set them up for lifelong success. Built for readers in their twenties and thirties, this book gives Millennials a proven playbook.
From learning how to pay off student loans insanely fast to optimizing their financial ecosystem, Millennial Money Makeover teaches readers how to claim back their financial future, make the most of their money, and jumpstart their path to the rich life.
---
What the Critics Are Saying!
"Do you control your money or does your money control you? Millennial Money Makeover provides timeless practical advice for the world's next major generational economic force. This book will both motivate and guide you to immediately find ways to better yourself and the world around you!" —Noah Barsky, PhD, CPA, Professor Villanova University School of Business (USA)
"Millennial Money Makeover changes the conversation around finances by providing a relatable, understandable and immediately actionable plan to better your finances today and in the future!" —Matt Reiner, CFA, CFP®, CEO and Co-Founder of Wela and Author of Ready to be Rich
"Millennial Money Makeover offers an engaging and actionable game plan for anyone to get their finances in order starting now!" —Patrick McGinnis, Investor and Founder of Dirigo Advisors and author of The 10% Entrepreneur
---
Get Updates On The Book
Sign Up for emails to keep you up to date on the book's progress. You will get:
An inside look at the writing process
Exclusive access to early content
Special bonus material
Opportunities to win free copies
As always, thanks for reading.

Conor Richardson, CPA
---
Available Anywhere Books Are Sold!